United States
View wines from specific regions:

View wines from specific sub-regions:

The history of US winemaking dates back to the 1600s, when colonists planted vineyards in Virginia and, soon after, Pennsylvania. Early attempts met with considerable hardship, however, as settlers didn't care for the taste of some of the native American grapes and European vines shipped in were often destroyed by pests and vine disease. It wasn't until the 1800s that commercially successful wineries started to take hold in the U.S., only to have their growth stunted by more vine epidemics in the late 1800s, and later by Prohibition.

Following the repeal of Prohibition, US winemaking gradually recovered. In the 1970s and 80s, California wineries started to make waves in the international market. Today the United States is one of the world's foremost wine producers, ranking behind only France, Italy and Spain in total wine production.

The vast majority of US wine production comes from the West Coast, and the vast majority of that is from California wineries, which produce almost nine out of every 10 bottles made in the U.S. Washington and Oregon wineries are also significant producers, and New York wineries are beginning to establish a reputation for fine wines, with Finger Lakes wines and Niagara Escarpment wines earning critical acclaim.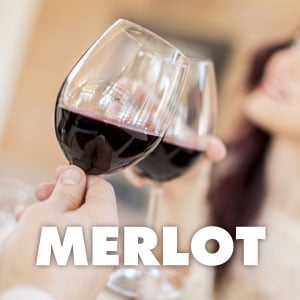 Shop for Merlot
Having been ridiculed (unfairly, in our opinion) in the movie, "Sideways," Merlot sometimes gets a bad rap as a beginner wine. We respectfully disagree. The Merlot grape, like many, can make fine wines for daily drinking as well as the best Merlots, sought out by collectors for their fine pedigree. Many of today's best-selling red blends contain Merlot as their backbone and some of the highest priced wines in the world (Château Pétrus in Bordeaux, for example) also use Merlot.
Merlot is versatile, which is why you'll find it planted in both warmer and cooler climates around the world. Besides Bordeaux, Merlot is also produced in the US, Australia, Chile, and elsewhere.
So here is an ode to Merlot. We know you well, and though we do not always sing your praises, we must give you your due as one of the greats.
2011 / 500 ml. Tetra Pak

United States | California

Item #33089

Limited inventory.
11 bottles or less in stock; we will confirm your order by email.

Only $4.49 when you buy a solid or mixed case

500 ml. Tetra Pak

United States | California

Item #22571

Only $4.04 when you buy a solid or mixed case