Cabernet Sauvignon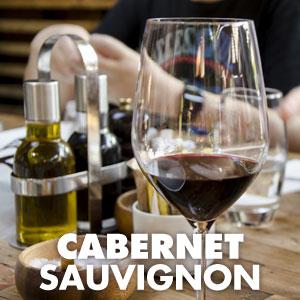 Shop for Cabernet Sauvignon & Red Bordeaux Online
As one of the noble grape varietals and one of the five esteemed grapes of Bordeaux, Cabernet Sauvignon claims the role of the respected elder of the wine family. Cabernet Sauvignon adapts well to different climates and as such is widely planted across the wine-producing world: France, Argentina, Chile, New York, and, of course, California, all produce fantastic expressions of Cabernet Sauvignon.
A full-bodied, dry red, Cabernet is at its best when paired with a steak or roast and also shows well with hearty dishes like stews and chili. With excellent aging potential, Cabernet Sauvignon is a wine you can cellar and enjoy five, ten, even fifteen years in the future. And don't forget: a little-known tip is that Cabernet Sauvignon is a perfect pairing for chocolate!
View popular grape types:

View wines from top districts:

Perhaps more than any other region in the world, Tuscany shows the inter-connectedness of culinary and winemaking traditions growing side by side. For any Italian meal there is no better match than a Tuscan Sangiovese, whether it is from Chianti, Scansano, or even the great Montalcino.

When wine writers discuss terroir they usually look to Burgundy or Bordeaux for examples, but Tuscany may produce some of the most convincing displays of terroir in action. Why does a Merlot or Cabernet grown in Tuscany taste like no other Merlot or Cabernet in the world? It simply tastes Tuscan—there's a meaty, mouthwateringly savory quality to Tuscan reds that cannot be replicated in any other viticultural area.

For example, Tuscany's most prestigious wine, Brunello di Montalcino, has this savory quality in spades. Meanwhile, some of the finest Super-Tuscans (made from international varieties such as Merlot, Cabernet Sauvignon, Syrah and others) from districts such as Bolgheri or Sant'Antimo may have more weight and heft than Sangiovese, but the Tuscan terroir provides a common link. There are refreshing whites made here, such as Vermentino or Vernacchia di San Gimignano, but make no mistake—this is red wine country.