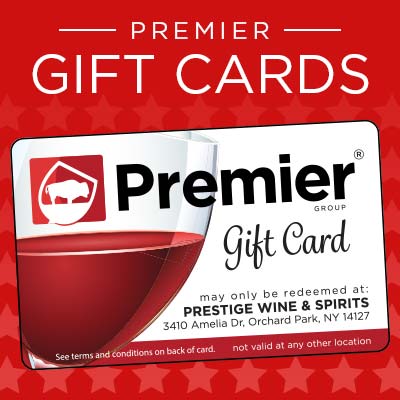 It's the perfect gift for the wine lover on your list!
Choose from several denominations. Each gift card ships for free!
May only be redeemed at Prestige Wine & Spirits (3410 Amelia Drive, Orchard Park, NY). Not valid at any other Premier Group location.
Redemption for WINEMADEEASY.COM orders must be placed over the phone by calling 716-825-9848. Please have specific product item numbers and your gift card number available for order processing.
Any unredeemed balance of this gift card expires 2 (two) years after the issue date. Protect this gift card and treat it as you would cash. Lost, stolen, or altered gift cards will not be replaced. Card balance is not redeemable or refundable for cash. Check your gift card balance with an associate at the store. Purchase of this gift card constitutes acceptance of our terms and conditions. In accordance with escheatment law, any unredeemed balance of this gift card that has not expired will be presumed abandoned and remitted to New York State five years after the issue date. Contact the NYS Comptroller's Office for more information.