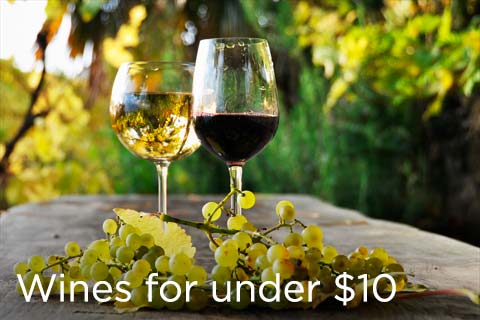 Shop Wines for under $10 at WineMadeEasy.com
Looking for good cheap wines? Well, we prefer to call them inexpensive or just plain good-old bargains. The best wines under $10 are of course the wines that taste good to you! Who are we to judge?
There are many good wines under $10, even excellent ones that consistently merit critical acclaim. The quality has improved greatly in the past few years so we can honestly say there are some really good cheap wines out there!
In the quest for the best wines under $10, you might try using the search fields to the left on this page to make things easier. Search by grape, rating...anything you're looking for in a wine!
Natale Verga Montepulciano d'Abruzzo

2021 / 750 ml. | Item#27362

Primary Grape: Montepulciano | All Grapes: Montepulciano

Perseverance Chardonnay

2021 / 750 ml. | Item#39414

Primary Grape: Chardonnay | All Grapes: Chardonnay

Donini Pinot Grigio

2022 / 750 ml. | Item#21199

Italy | Veneto | Delle Venezie

Primary Grape: Pinot Grigio | All Grapes: Pinot Grigio

Natale Verga Pinot Grigio

2021 / 750 ml. | Item#27361

Italy | Veneto | Delle Venezie

Primary Grape: Pinot Grigio | All Grapes: Pinot Grigio

Hayes Ranch Chardonnay

2021 / 750 ml. | Item#40320

Primary Grape: Chardonnay | All Grapes: Chardonnay

Alhambra Single Vineyard Malbec Reserva

2020 / 750 ml. | Item#32892

Primary Grape: Malbec | All Grapes: Malbec

Natale Verga Chianti

2021 / 750 ml. | Item#39491

Primary Grape: Sangiovese | All Grapes: Sangiovese

L'Enclos Rosé

2022 / 750 ml. | Item#60240

Primary Grape: Egiodola | All Grapes: 50% Egiodola